Piggie Pie
Written by Margie Palatini
Illustrated by Howard Fine
Reviewed by Rushal R. (age 7) & Christina S. (age 7)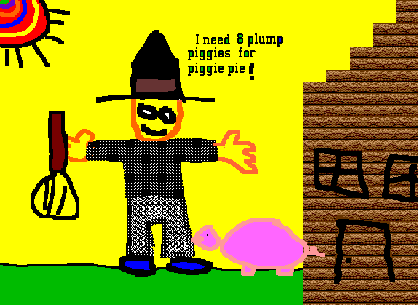 Have you ever heard of some pink pigs dressing up? Here's a book about some. One day a witch woke up and she wanted to make something juicy to eat like... piggie pie. She had every ingredient ready for except for PIGS! She thought and thought where she could find pigs. First she thought that pigs were in the zoo, then the circus, then she finally knew where to get pigs, at Old McDonald's Farm.
The illustrator made the pictures real and in 3-D. I (Rashal) like this book because the pigs play a good trick on the witch. Also we like that the pigs dressed up as other farm animals. This book reminds me (Christina) of a farm in Greece.
We recommend this book to anyone who likes farm animals or witches. We think that kids should read this book because it teaches you to not hurt farm animals.