Frog and Toad All Year
Written by Arnold Lobel
Illustrated by Arnold Lobel
Reviewed by DYN (age 7)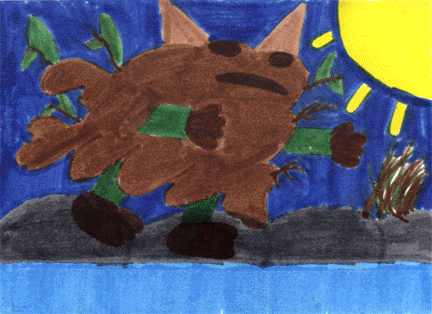 Do you have a best friend? This story is about the friendship of Frog and Toad. They do nice things for each other and spend time with each other throughout the year. Each chapter talks about an adventure that Frog and Toad go through during the different seasons. In the winter, they go on a sled ride. Then, it starts to rain and this is a sign that spring is coming. During the summer, they each ice cream together. The leaves start to fall on the ground in autumn and they rake each other's leaves up. The last chapter is when they celebrate Christmas together.
I like this story because it reminds me of my best friend, Jack. I always try to do nice things for him because I like him and we have fun together. We love doing many things together. One of our favorite things to do together is ride our bikes in the park and eat ice cream. Our favorite ice cream is chocolate. Frog and Toad eat chocolate ice cream together, too. My favorite part in the story is when Toad goes to the store to get some ice cream cone for them to eat. But it is so hot that they ice cream starts to melt on Toad. He ends up looking like a brown monster. Frog was so scared of this thing coming near him, he hides behind a rock. They seem to have so much fun together.
I recommend this book to all children. It teaches you the how important it is to have friends and do nice things for them. There are many funny parts in this book and I think children will enjoy reading about the adventures they go through together. It is always nice to do something when you do it with a friend.