The Paperboy
Written by Dav Pilkey
Illustrated by Dav Pilkey
Reviewed by Taylor H. (age 7)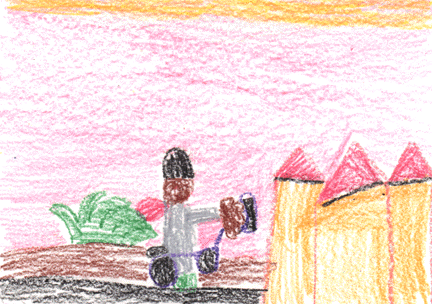 A boy is a paperboy. He doesn't have a name. He wakes up very early with his dog before the sun does. Everyone else is sleeping. He eats his breakfast, gets dressed, wraps newspapers with rubberbands, and puts them in a red bag.
My favorite part is when he is delivering the paper. He goes around neighborhoods on his bike seeing all the different houses and having his dog go with him. They are the only ones up.
I enjoyed the pictures because they have a lot of color for being at nightime. It won a Caldecott Honor Medal.
I felt very happy when I read "The Paperboy." I like the words the author used like, "Little by little the world around them wakes up." I wondered about my family waking up early. I wondered what it would be like to be up by myself.
I recommend this book to other people. They will enjoy the pictures. They will like what the paperboy does.