Snow White
Written by Josephine Poole
Illustrated by Angela Barrett
Reviewed by Amelia P. (age 5)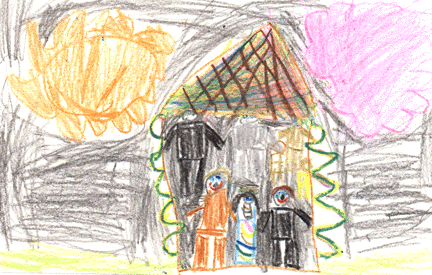 This book is about Snow White, a Queen, her step-mother, a king, and seven dwarfs. I learned two lessons from reading this book. First, there are more nice people in the world than bad people. Second, it is not nice to be so concerned about being pretty because everyone is pretty.
My favorite character is Snow White because she is brave. She went into the forest and listened for animals and was not eaten. I did not like the Queen because she is so mean to Snow White who is a beautiful girl. The Queen thinks ugly things are beautiful and beautiful things are ugly.
I liked this book because there is a wedding in it. My favorite part was the wedding which was small so that everyone fit in a beautiful little tower. The pictures are very special in this book. The forest picture is my favorite because it takes up two pages and has a mountain lion, a bear, a fox, a wolf, a squirrel, a rabbit, a moose and a chipmunk in it.
The book made me feel bad when the Queen was trying to make Snow White dead forever and happy when the Queen died and Snow White came back to life. I wondered if there were such things as dwarfs. It was interesting that there was an apple in the book that was half green and half red and there is no such thing as this. They do come mixed green and red. That is why it is a story.
The book is like Cinderella because Snow White is a princess and she has a mean step-mother like in Cinderella.
I would recommend this book because kids would really like it if they like princesses and long books.
(This review was dictated to an adult.)