Amelia's Notebook
Written by Marissa Moss
Illustrated by Marissa Moss
Reviewed by Stacey F (age 10)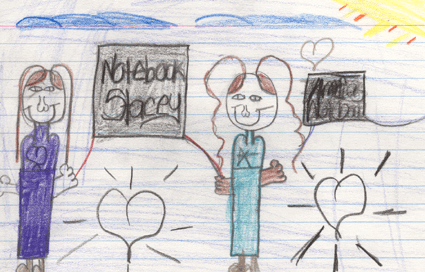 This book is about a girl named Amelia. Her mom brought her a notebook. They were going to a new house to move but Amelia did not think it was a good idea because she liked her old house. When they go to the new house they stop in all kinds of restaurants for lunch. Amelia's sister Cleo eats almost everything they have for lunch. Amelia took matches from each restaurant so she could have a collection.
They got to the new house and Cleo was so happy because she had a room only for her. Amelia was really sad because she missed her best friend. Amelia sent a friendship necklace because she did not know when she was going back. On the first day of school she met a girl that had braces like Nadia and she started to think about Nadia.
My favorite part was when Amelia was trying to look like Cleo her sister. I like the pictures because they look interesting. They look like pages from her journal. The story teaches me how to not think someone is better that you. The story reminds me about when I said that my sister was better but my mom said we're all the best. I like this book because my sister's name is Amelia.
I think kids should read this book because the book is a notebook and all kids have a notebook to write in. It is nice to see others do it too. Kids that think a journal is interesting should read the book.