The 6th Grade Nickname Game
Written by Gordon Korman
Reviewed by Ashley N. (age 10)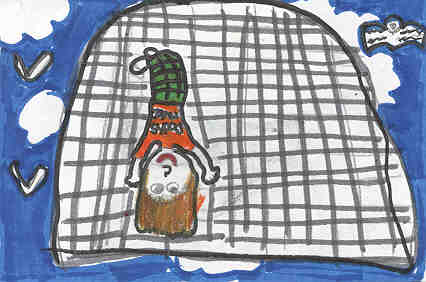 Wow! What a great book! The 6th Grade Nickname Game is about 2 boys named Wiley and Jeff. They try to nickname everyone. When they try to nickname a boy named Mike they don't think the name will stick- but it does and if it does stick than they owed a boy they called Snoopy a new nickname. And when a new girl named Cassandra moves in things get really crazy! Things like how Wiley and Jeff find Cassandra's favorite endangered specie- the Blue Crested Warbler sparrow. Cassandra is practically good at everything and volunteers for practically everything and that's what makes the book so funny. Both Wiley and Jeff want Cassandra to ask them to the Sadie Hawkins dance, and they'll go through all the trouble they need to just to get that wish, even the things Jeff and Wiley never did together. But they don't think that Cassandra might have other plans. Will their dreams come true or will they get smashed forever? Read this book to find out more about Wiley, Jeff, and Cassandra.
I feel that this book is unique because there's no other book where everyone has a nickname. My favorite character is Cassandra- the new girl, because she's not like anyone else. My favorite part is when Wiley and Jeff play tricks on each other because they do the craziest things!
I recommend this book to anyone who likes to play tricks on his or her friends or nickname people. I also recommend this book to people who like to let their imagination go wild and have a good time with a book. I can relate to how Wiley and Jeff felt about getting asked to the Sadie Hawkins dance because I'm always anxious about someone's answer. This book teaches a very good lesson that's about how you shouldn't base your life on one thing and forget all the other important things in life. This book is humorous while romantic at the same time. And when they mix together you get a really great book!