Wayside School Gets A Little Stranger
Written by Louis Sachar
Reviewed by Abbey R. (age 10)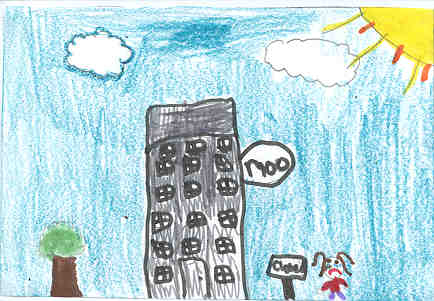 Wayside School Gets a Little Stranger is a book a lot like Sideway Stories from Wayside School and Wayside School is Falling Down. Wayside School Gets a Little Stranger is about a class who recently got a new teacher, her name is Mrs. Jewls. Mrs. Jewls has to leave school for 3 months because she is having a baby. So they have to get a substitute. They get into a big mess with the first teacher and the second one chases after a former student and is never seen again. Then they get another teacher, if you want to find out if they goof off again, then you should read this book.
My favorite part of the book was when Mrs. Jewls brought her baby to school because Louis (the yard teacher) was carrying diaper bags, a bassinet, a baby bottle, and a ton of toys and he piled them all on a boy named Todd's desk. My favorite character was Kathy because she saved her class from a mean teacher. This book also has great illustrations.
I recommend this book to boys and girls of all ages because it's funny and weird. I think people who like funny books would like this book. If you like Wayside School books, then you will like this book.