Hoop Hustle
Written by Jake Maddox
Illustrated by Jesus Aburto Martinez
Reviewed by Ryan M. (age 10)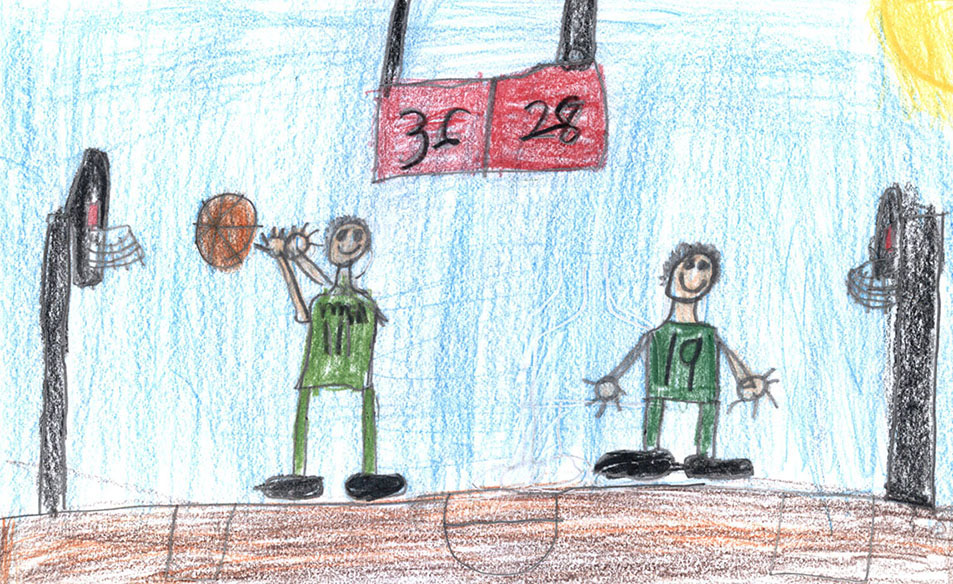 Have you ever played basketball? This book is about a kid named Brian and he wants to get onto the varsity basketball team. He's going to the senior citizens center where he met George. George liked planes, there were planes hanging from the ceiling in George's room. Brian and George started to talk and Brain found out George used to play basketball. George even had an old newspaper article about him playing basketball in the old days. Brian and George went to the court so George could help teach Brain some basketball tricks. George was showing Brain the outlet pass and the hook shot and they practiced until Brain was good at them. The next day when Brain went to the senior center, George wasn't there, he was in the hospital because he needed surgery. Brian missed George. One day Brian went to tryouts for the Varsity team and in the first half he lost, then George showed up and Brian won the second half. Every day after that when Brain would walk by the gym bulletin board he would look for his name to see if he made the Varsity team. At the very end of the day the list was there on the board. Will Brian's name be on it?
In my opinion I thought this book was great. I enjoyed reading how a boy would work hard to achieve his goal to make the Varsity team. My favorite part is when he practiced with the Varsity team. I liked this part because he learned a lot about basketball to try out for the Varsity team. This author writes books about different sports.
I would recommend this book to anyone that likes basketball. If you want to learn about basketball this is a good book also because the author puts a basketball dictionary in the back that tells you the definition of different basketball terms such as boxing out, paint, and screen to name a few.