Junie B. First Grader Aloha-Ha-Ha
Written by Barbara Park
Illustrated by Denise Brunkus
Reviewed by Grace A. (age 10)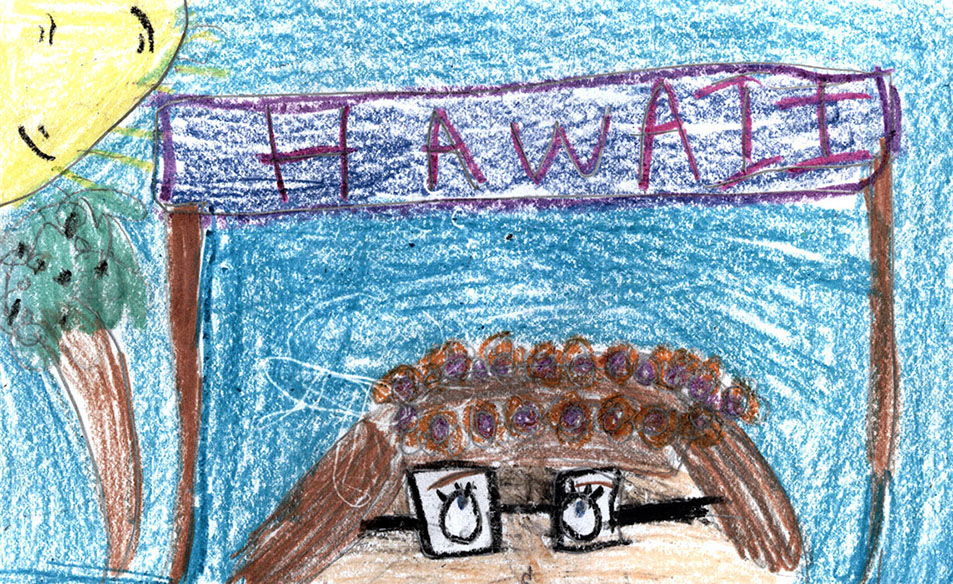 Have you ever gone to Hawaii? If you have well, you have something in common with Junie B. Junie B is super exited to go on her trip to Hawaii after hearing that they needed to go there for her dad's job interview. She tells all her friends along with her teacher, Mr. Scary. You can tell Mr. Scary is a very kind teacher because he knew about her trip so he got her a camera and a photo journal for the way. An event that happened in this book that I enjoyed reading was when Junie B got two grouchy ladies mad at her on the plane. Here comes my favorite part...the swim ring. It made me giggle when Junie B asked for a swim ring that was for babies. There is more to that swim ring part but you would have to read the book in order to find out. Junie B made a friend named Donald. Donald isn't what you expect. Remember when I told you about that photo journal and the camera along the long adventure, Junie B has a task with it from Mr. Scary. You will find out more about this task only if you read this book....
Would you like to hear my opinion about the book? Well, first I wanted to say what I think about this book. I think this is an interesting book because a lot of crazy things happen in this book, an ordinary trip wouldn't be as fun and crazy. Next, I felt like laughing while reading this book. I wondered what this would be like in movies and what the other books In the series are like. Another thing I want to tell you about my opinion is something unique about this book. One thing that is unique is there illustrations because, they are very detailed and they are in black and white. They helped me a lot to know what Junie B looks like. Lastly, the character, Junie B changes throughout the story because she goes from being really bored at the vacation to becoming very interested and having lots of fun. That is my opinion about the book Junie B, First Grader Aloha ha-ha-.
I recommend Junie B, First Grader Aloha-ha-ha because, I really enjoyed reading this book. I am not a very good reader and normally I do not stick to a book till the end but for this book I stayed to the end. I was sad when I finished it and I wished that I could read it for longer. I also would recommend these books to kids who like realistic fiction and to kids who enjoy books about crazy events while on a trip. What might interest readers is that Junie B goes through crazy events with her family. Also this book may interest you if you like chapter books with illustrations. I recommend this book to all because it has normal events in life but also crazy ones.