The Woodshed Mystery
Written by Gertrude Chandler Warner
Illustrated by David Cunningham
Reviewed by Mallory W. (age 10)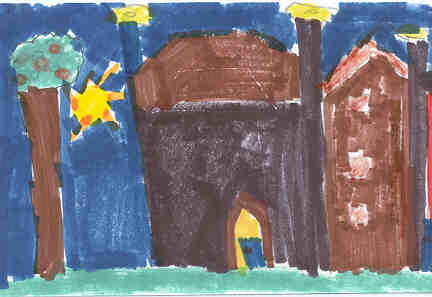 Do you like mysteries? Well, this is a great mystery! This story is about four kids that are trying to figure out who is in their woodshed. They live with their Grandfather. Their Grandfather bought a farm for Aunt Jane and they want to know who is in their woodshed. When Aunt Jane was little she knew someone called Alden Bean. He was two years older than Aunt Jane. Could Alden have come back for a visit? Is he the one who keeps stealing the eggs out of the woodshed? They found a hole in the woodshed. It is very, very deep. Watch is their dog and he goes down with the kids in case he finds something suspicious with his nose. This woodshed was built during the Revolutionary War. They don't know that yet, but they are going to try to figure it all out before summer ends. It is a wonderful story for all kids that love mysteries.
If you like mysteries you are very lucky that they made this book. I liked this book because it has funny jokes in it. This book is a series of books called the Boxcar Children. They are alike in some ways; one-way is that they all are mysteries. I also liked this book because it is kind of relaxing when you read it. It was so interesting too.
I love this story because it was such a mystery! If you like mysteries read this book! It is a wonderful opportunity to spend time reading this book if you want to be a little scared or just want to have a little fun reading a wonderful book! I enjoyed this book and I know that you will too!