A-Z Mysteries: The Jaguar's Jewel
Written by Ron Roy
Reviewed by Sebi S. (age 9)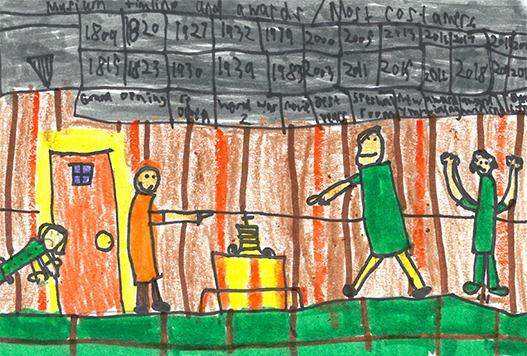 If Dink, Josh and Ruth Rose are solving mysteries, they can find clues right around the corner! They can even find clues were nobody can even think about. Even if they need to look right in the open. In the beginning of the story, two robbers in England steal the Queen of England's jewels. If somebody finds the jewels, they will get 10,000 pounds! ($15,000 in America). Then Ruth Rose comes up with a very good idea. They can find the queens jewels!!!
Later, at a very famous wax museum, the kid's tour guide is someone named Mandy. They noticed that Mandy had some very spicy perfume. Later, they go to a palace in London. That is were the crime took place. It was also were the queen was staying. At the palace, with lots of green, wet bushes, they find some very spicy gum! They think it could be Mandy's! Maybe, that $15,000 could be theirs. Could Mandy be one of the robbers? They might be right. But if they want the $15,000, they need a lot of proof. So the next time they come to the wax museum, they plan that they will take a picture of her and her car. When they do, they see that the front bumper has a bumper sticker on it. But it is not just an ordinary bumper sticker. It had the letters that the queen saw on the bumper!!! At the wax museum, they show it to someone at Scotland Yard. (that is the police in London.) But what if they were wrong? By seeing the queen, they remember something. The queen's jewels have some letters on it. It was carved in silver! In conclusion, will Mandy go to jail or will they have to stay in London for an extra day?
If you like mystery and lots of clues, this book by Ron Roy is the book for you. He has lots of experience by writing books since 1979!!! All of his books are different in a good way because each time they have a mystery, it is about a different story. That is impressive because it is a very long series! Each book has different characters in each and every story. Finally, almost every book has a very different setting than all of the others.
I recommend this book to mystery lovers and 1st to 5th graders. I think that they will love these mystery books.