Meet Kirsten
Written by Janet Shaw
Illustrated by Renee Graef
Reviewed by Annika C. (age 10)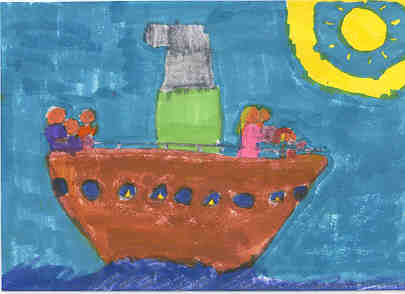 "Look! America!" said Kirsten to her best friend, Marta. Kirsten and her family, and Marta and her family were all traveling to America to live a better life. First, they had to travel by a boat across the Atlantic Ocean to New York. Next, they had to get to Chicago by train. Then, they had to get on the Mississippi Riverboat that was headed for Missouri. It is hard for Kirsten when she travels on the riverboat because she hears about a sickness called Chorlea, which reaches Marta and kills her. There are a lot of sobs when Marta is buried. If you want to find out how Kirsten gets through this very hard time read this book.
I really enjoyed this book because there were a lot of sad and happy moments. I also like this book because at the very end there is a section called A Peek into the Past. It gives information about things during Kirsten's time, like for instance there are some toys that children played with. This book is part of a series. It is the first of six books. There is also a part where Kirsten gets lost. This part reminds me of when I was at the State Fairgrounds. Every time we moved to a different train set I always lost my dad, but then I found him again.
I truly do recommend this book because it has some really great parts. I suggest this book to girls between ages eight and ten. I also urge this book to girls whom either like to get lost or like adventures. Also, if you like to travel a lot read this book. I think the part of the story that might interest you is the part where Kirsten finds Marta in Chicago. It is a very happy part.