Lulu's Mysterious Mission
Written by Judith Viorst
Illustrated by Kevin Cornell
Reviewed by Anthony N. (age 9)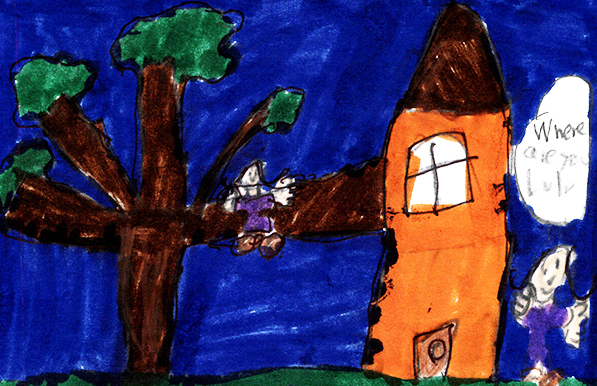 Lulu's Mysterious Mission is a very funny book. Lulu is the main character. She goes to elementary school and she gets what she wants no matter what. She usually achieves this by screaming at the top of her lungs. Lulu is a very naughty girl. The story is about Lulu's parents leaving for a private vacation. Lulu's parents felt bad for Lulu because she was so upset, so they hired a babysitter named Ms. Sonia Sofia Solinsky, who they thought was the best nanny in the world like Mary Poppins! But, she wasn't. Lulu refused to behave for her and Lulu kept trying to get rid of her. One time, Lulu climbed out of the bathroom window and up a tree to lose Ms. Solinsky! When the babysitter found her, Lulu hatched another plan. Lulu asked her friend Mabel to bring two cats over to the house because Ms. Solinsky is extremely allergic to cats. Lulu wants to make Ms. Solinsky have an allergic reaction so she'll leave. When Ms. Solinsky thwarted the plan, she leveled with Lulu. Ms. Sonia Sofia Solinsky was no babysitter, she was a retired spy! Ms. Solinsky makes a deal with Lulu. If Lulu starts to behave better, she is going to teach Lulu how to be a real spy! Does Lulu start to behave? Will Ms. Solinsky really turn Lulu into a spy? Or, does Lulu get rid of Ms. Sonia Sofia Solinsky and her parents have to end their vacation early? You will have to read the book to find out!
I think the story has very good details and great illustrations. One of my favorites is in the beginning of the book. Lulu is drawn screeching when she finds out her parents are planning to take a vacation without her. I like how the author stops writing the story and then "speaks" directly to you to explain what is going on. I have never read a book before where the author does that. The last good thing about this book is that it has a funny but interesting first sentence that grabs your attention so you will want to keep reading. You never want to be like Lulu because she is a naughty and bossy little girl. In my opinion, she is the type of student that probably goes to the principal's office a lot.
I recommend this book to third and fourth graders. I think students this age like exciting books. This book is also for anyone who likes funny books. I laughed out loud a lot while reading this book and looking at the funny illustrations. I also like the message about not judging someone else too quickly and giving people a chance. I loved this book and I hope you will, too!