Lulu's Mysterious Mission
Written by Judith Viorst
Illustrated by Kevin Cornell
Reviewed by Ian H. (age 9)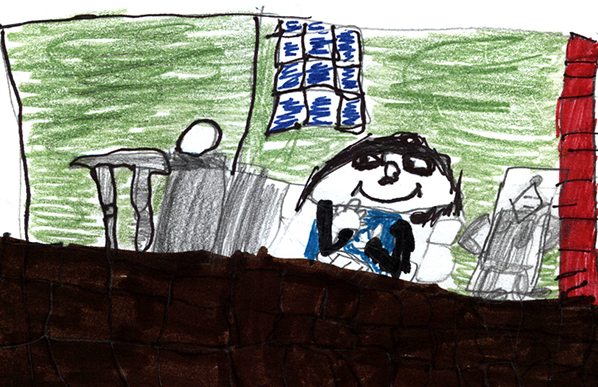 Lulu's Mysterious Mission is one of the funniest books I have ever read in my life. From the writing to the pictures, I was laughing out loud every couple of pages! The story starts with Lulu's parents telling her they are planning to take a vacation without her. Lulu gets very upset, but despite all her protests they go forward with their plans and hire a babysitter named Ms. Sonia Sofia Solinsky. The parents were happy with the new babysitter but Lulu was determined to get rid of her. Lulu refused to behave for her and did everything she could do to get rid of her. Sonia Sofia Solinsky was always one step ahead of Lulu. Lulu's behavior and plans kept getting more and more outrageous! At one point she even climbed up a tree and hid from the babysitter! One time, Lulu climbed out of the bathroom window and up a tree to lose Ms. Solinsky! Lulu is convinced there is something very different about Sonia Sofia Solinsky. Lulu is right! There is something very different about Sonia Sofia Solinsky! You will have to read the book to find out what it is!
I think the story is very good. Because this was my first Lulu book, I had a little trouble at first, following all the twists and turns in the book. What was helpful, and sometimes really funny, is that the author, not Lulu, would jump right in, stop the story, and talk directly to the reader! One time when this happened was when I was reading about Lulu's trombone teacher, Mr. Harry Potter. All of a sudden, the author, Judith Viorst, jumps in and explains that it wasn't the wizard Harry Potter, just a regular trombone teacher named Harry Potter. I think Lulu's parents needed a vacation from Lulu. She screeches and is very demanding. She causes so much trouble, like with all her crazy plans to get rid of Sonia Sofia Solinsky. The illustrations are funny. When Lulu gets mad or when she is being sneaky, you can't help but laugh as soon as you see the picture! I think the illustrator, Kevin Cornell, did a great job.
I recommend this book to students in grades 3 to 5. I think you need to be older and a good reader to keep track of the story and all its details. I think the book is hysterical. If you like to laugh, you will love this book.