Amulet-The Stonekeeper
Written by Kazu Kibuishi
Reviewed by student in Mrs. Vincent's 2nd Grade Class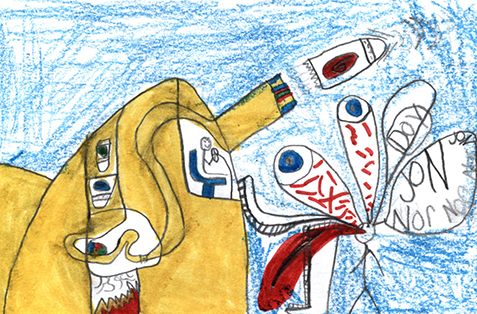 Did you know that rocks and jewels can give you super powers? In the beginning of this book, there was an evil man and he was looking for his partner. His partner had already broken the rock. The rock is an amulet. The amulet is special because it gives you laser eyes. Emily is a girl who discovers the amulet on the top of a mountain range. If you want to hear more, read this book!
In my opinion, I think this is a good book. The plot is interesting and the reader will continue to wonder about what will happen next. Amulet is a graphic novel and it has awesome pictures. The illustrator added many details to each picture. There are speech bubbles that show what each character is saying. Speech bubble make the text more enjoyable to read.
I recommend this book to people who like rocks. It is best for kids in second grade through adulthood. Everyone should read it!
I rate this book 5 stars out of five stars.