The Pout-Pout Fish
Written by Deborah Diesen
Illustrated by Dan Hanna
Reviewed by Taryn E. (age 8)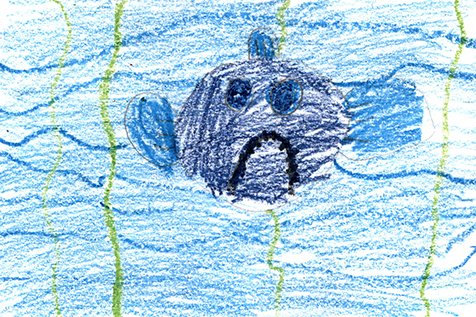 Have you ever been sad? In this book, the Pout-Pout fish is feeling sad. In the beginning of the story, the Pout-Pout fish comes around and says, "I'm sorry, I'm a Pout-Pout fish with a Pout-Pout face, so I spread the dreary-wearies all over the place. Blub, blub, blub, blub." Read the book to find out if Pout-Pout fish is always sad.
In my opinion, I think this book is so, so, so, so funny! The Pout-Pout fish illustrations are funny looking. Their eyes and lips look like a cartoon character. They might make you laugh. It is also magical! It's magical because there's one fish that is really sparkly. It's so wonderful and funny!
I recommend this book to kids who like funny books. This is a good book for second and third graders. Really, any grade would like it!
I rate this book 5 stars out of five stars.