Stuart Little
Written by E.B. White
Illustrated by Garth Williams
Reviewed by Drew S. (age 10)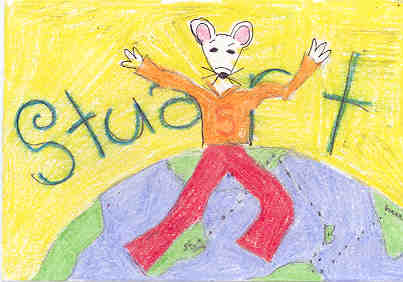 Stuart Little is a small, white mouse that was adopted by Mr. and Mrs. Little and their son George. The bad part is that they have a house cat and tries to get rid of Stuart. Anyways he loves going on adventures. He has a couple of friends named Margalo the bird, Harriet, and Dr. Clydesdale. Dr. Clydesdale made a small model car with a motor and gave it to Stuart. He rides around on it and tries to find his future. Stuart meets a man who says one of his teachers is sick and doesn't have anyone to teach so Stuart, an inch high mouse, teaches. After, Stuart says his good-byes and heads north.
I really liked this book. I liked this book because it is full of adventures, which I like! My favorite part of the book was when Stuart saves Margalo from Snowbell! The illustrations are really good; they make me feel like I'm there. I think Stuart is a brave and fierce mouse and I think that he will find his future.
I recommend this book to young readers because its neat how Stuart goes through all these adventures and yet he's a mouse. And it is funny sometimes because you wonder, "He's a mouse how can he do it?" but he can. I guess it shows you that it doesn't matter how big you are, you can do big things if you try. So, read this book. It will bring the laughter out of you!