Heidi Heckelbeck Casts a Spell
Written by Wanda Coven
Illustrated by Priscilla Burris
Reviewed by Angelica K. (age 8)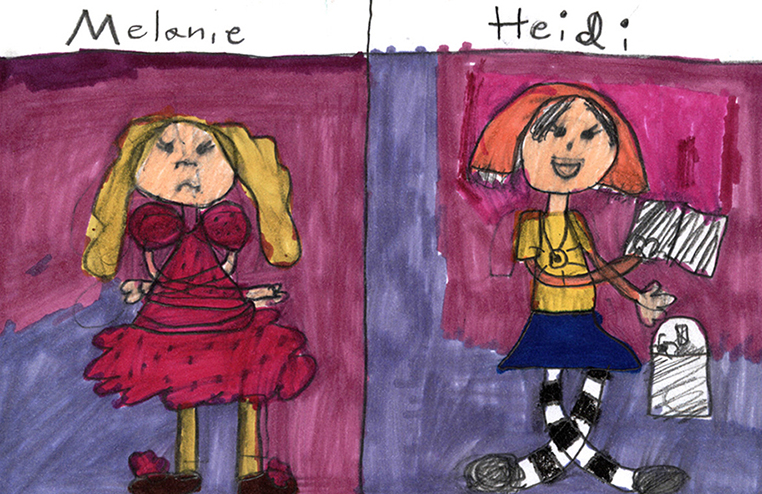 Heidi Heckelbeck Casts a Spell is a great story by Wanda Coven. In the beginning, Heidi is looking at her book of spells because she wanted to cast a spell on her enemy Melanie because she always does mean things to her. For example, she called Heidi smelly and she also gave her five dirty looks for no reason. Heidi also thinks that Melanie is the reason she got cast as a scary apple tree instead of Dorothy in their school play. Melanie got the part instead. Heidi went to the bathroom and put all the ingredients in a bucket. Then she said the magic words, "Oh special juice, let your powers loose! Help me quickly show me the signs. Make Melanie Mapelthorpe forget her lines." Now the joke will be on Melanie. Read the book to find out what happens and if the spell works or not.
Heidi Heckelbeck Casts a Spell by Wanda Coven is a great book. My favorite picture is on page 118 that shows her holding a cupcake because it means that she learned a lesson. In this picture she's holding a cupcake that her dad gave her. It's the one with the ruby slippers that she wanted and deserves. She learned that it feels terrible to make someone unhappy. In the picture Heidi is smiling at her cupcake proudly. My favorite part is when Heidi stands up for Bruce. In that part, it shows that a fifth grader was teasing Bruce and then Heidi crawled on the floor to get Bruce's glasses and untied the bully's sneakers. My favorite character is Heidi because she can be sneaky but she's kind. She is my favorite character because it reminds me of when I was sneaky too. For example one time I took the nutella jar and ate half of it. I felt guilty afterwards. I hope you enjoy the book as much as I did.
I recommend this book for 3rd to 4th graders because it's a book about friendship. If you are someone who likes realistic fiction friendship books, this book will be the perfect book for you. I like Wanda Coven's book because it was very entertaining. I like Priscilla Burris's illustrations because her drawings match the writer's words very well. I would give this book a 10 out of 10.