Heidi Heckelbeck and the Cookie Contest
Written by Wanda Coven
Illustrated by Priscilla Burris
Reviewed by Alyssa D. (age 8)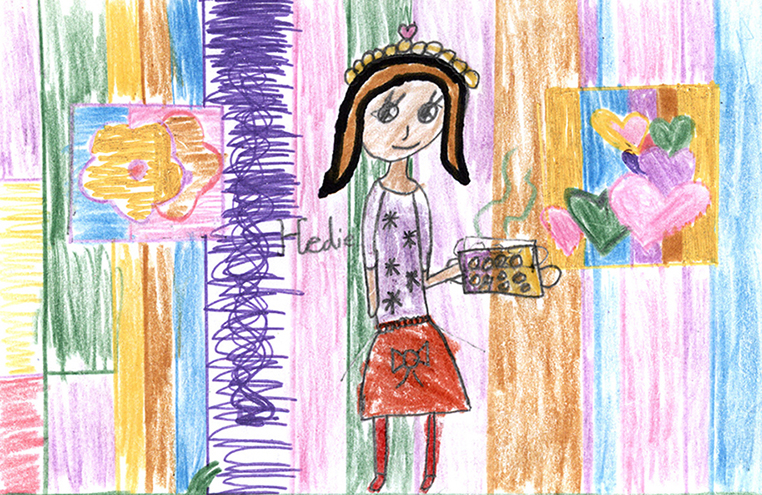 If you like baking, you will like Heidi Heckelbeck the Cookie Contest by Wanda Coven illustrated by Priscilla Burris. In the beginning, Heidi was wondering about what cookie she would make for the Brewster Elementary Cookie Contest. She took out her family cookbook to see what cookie to make. She decided to make the family's famous chocolate chunk cookie recipe. When she was baking, her brother was pretending to be a cookie monster. Heidi rolled her eyes at him. She realized that she had no eggs, but her mom promised to get her more after school. The next day everyone was talking about the contest at school. When Heidi told Melanie, her enemy, what she was baking, Melanie said they were boring. But then Heidi's best friend, Lucy, stuck up for her. Heidi thought that Melanie was actually right so Heidi changed her cookie name to Magical Chocolate Chunk Cookies. When she got home from school, she got all the ingredients. She grabbed pretzels, mini-marshmallows, jelly beans, a box of old candy canes, peanut butter crunch cereal and dumped them on the counter. Her dad came home and pretended to faint when he saw what she had done to the famous family recipe. He made the famous recipe to show her how good it is. She still thinks her cookies are boring so she gets her book of spells and decides how to make her cookies better than they were. So she gathers ingredients including a chunk of cheese and throws everything in a pot and says a spell. The next morning she checked on them and they smell. She thought they were okay and brings to the contest. Read the book to find out if the judges like her cookies or not.
Heidi Heckelbeck is a great story. This book reminds me of when my dad and I bake cookies. In the story, Heidi's dad baked cookies and she helped him. I help my dad shape the cookies and mix the ingredients. So did Heidi. I think Lucy is kind. I think that because when Melanie said that Heidi's cookies were boring, Lucy told Melanie, "What kind are you going to make? Disgusting chip? Or oatmeal poison?" My favorite part is when Henry, Heidi's brother was pretending to be a cookie monster. Henry says, "Me want COO-kie! Munch! Munch! Chomp! Chomp!" Heidi rolls her eyes at him. Those are some of the reasons that I really enjoyed this book.
I think this realistic fiction book would be a good choice for second and third graders because it's a short chapter book with only 10 chapters. If you like reading about contests or baking, you would like this book. I would rate this 100/100 stars.