EllRay Jakes is Not a Chicken
Written by Sally Warner
Illustrated by Jamie Harper
Reviewed by Filip C. (age 8)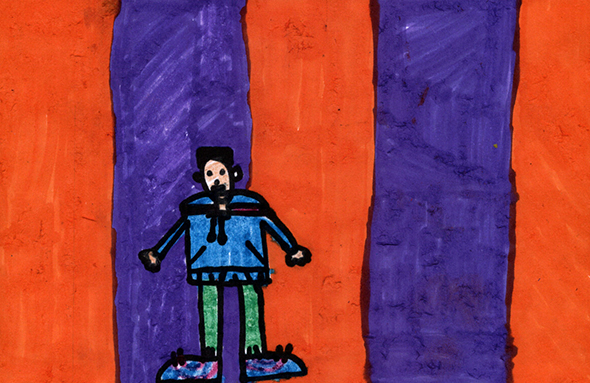 This book is great for all students that enjoy comic books. You should read Ellray Jakes is Not a Chicken because it will teach you that all kids, big & small, have special qualities. The book begins with Stanley bullying Ellray because he is short. Ellray is upset because he's the smallest kid in the the 3rd grade and everyone picks on him. He gets in trouble for fighting a lot. Ellray thinks he is defending himself and doesn't really understand why he gets into trouble. His dad knows he got into a fight with Jared at a lunch table outside and explains its best for Ellray to behave as 3rd graders should. Ellray's dad bargains with Ellray saying that if he is able to behave and be good for the whole school week, he will take him to Disneyland. Read on to see if Ellray can solve his problems, behave in school, and get his trip to Disneyland.
I think this book is funny, dramatic and interesting. Its funny when Kevin calls Ellray "sweety". Its dramatic when Ellray, Jared & Stanley get into a fist fight. It's interesting in that Ellray's size has nothing to do with why Jared doesn't like him. You will have to read this book to find out more. Also, writing with cartoon bubbles makes the book more fun to read.
I recommend this book for people that enjoy funny books like comics. Also, if you like a few pictures in your books, this book has some that you may enjoy. This book is perfect for for 3rd and 4th graders. You may even learn something.