City Cousin
Written by Katherine Rawson
Illustrated by Steven Petruccio
Reviewed by Valendena A. (age 9)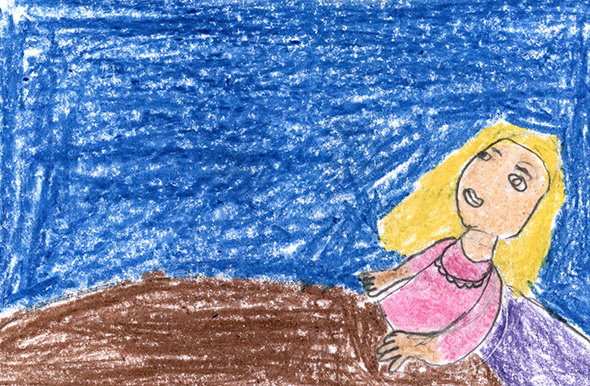 City Cousin is about a girl named Anna going to her cousins house for the summer. Anna was super excited. But at night time Anna was home sick and heard noises and saw scary shadows. The next day Anna woke up and ate breakfast with her cousins Sophie, Harry, and also aunt Polly, and uncle Al. She told them what she saw and heard. Harry said it was Anna's imagination. After breakfast Harry and Anna went to the barn. Anna spotted a kitten. She asked her aunt if she could keep the kitten her aunt said yes. Anna decided to name the kitten Milky. Anna was really happy but when Anna was holding Milky she jumped out of Anna's hands! Will Anna ever find Milky? And will Anna ever find out what those noises and shadows were? Well you'll have to read City Cousin to find out!
I thought City Cousin was a great book. I loved City Cousin because the end is very surprising, and it left me with questions throughout the story. For example, will Anna ever find her kitten Milky? And what are those creepy shadows and noises? Thankfully, at the end it answered all of them! I also like this book because I can relate to this story. I once felt homesick. This connection was made when I read, "Anna thought about mama and papa," because when I think about my mom and dad at a sleepover, I get really sad. Another reason I liked City Cousin was because it wasn't just a scary book,or a happy book, or a mystery, it was all of those things! It was a happy story because Anna was going to see her cousins. It was a scary story because Anna heard scary noises and it described how Anna felt when she saw shadows. And it's a mystery because Anna can't find her cat! Overall I think City Cousin is a great book.
City Cousin is a great book. It's good for all ages because it was not too hard to read and it was realistic but still very fun to read. If you like short ,scary, happy,and mysterious books, then City Cousin is the book for you!