Maple Tree Farm: The Big Rescue
Written by Katherine Rawson
Illustrated by Steven Petruccio
Reviewed by Julia L. (age 9)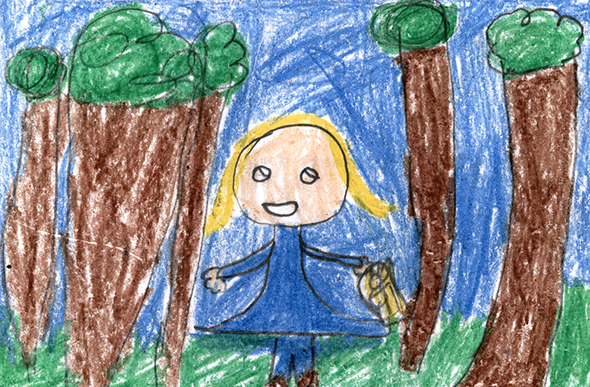 Have you ever lost a pet? Well if you did you should read Maple Tree Farm: The Big Rescue by Katherine Rawson and illustrated by Steven Petruccio. The story is mainly about Anna and her cousins, Harry and Sophie, and their kitten Ghost. In the first chapter they are going to get stuff for Anna's Aunt Polly. In chapter two Harry pointed to the woods and said it was a shortcut, but this scary guy lived in the woods with a bull! It was getting dark so they had to hurry up. In the third chapter the children are walking in the woods. Their kitten, Ghost, saw a squirrel and jumped out of the basket that he was in. You have to read chapter four to find out if the kids ever find the kitten.
My opinion about The Big Rescue in the Maple Tree Farm series is that the book has lots energy about going to the different places like the store and then the woods. I think the book was a really good story because it was really adventurous and nerve racking. I think this because in chapter three, they were walking in the woods and Ghost jumps out of the basket and that was nerve racking to me. It was also adventurous because they were walking to the store and then going into the woods. I love adventures and nerve racking stories because they can have a lot of details. How about you?
I recommend this book to second and third graders because it was pretty easy to read and really short. There are some words that maybe hard for some second graders like: assortment and nervously. But these words might be easy for most third graders.