Maple Tree Farm: The Big Rescue
Written by Katherine Rawson
Illustrated by Steven Petruccio
Reviewed by EJ D. (age 8)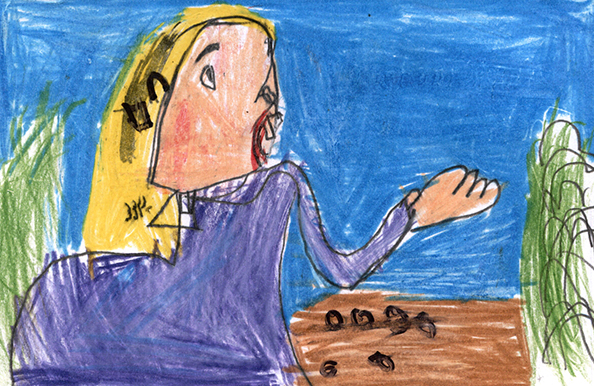 Have you ever had a horrible day? If you did, then you should read The Big Rescue in the Maple Tree Farm series. This book is written by: Katherine Rawson and illustrated by: Steven Petruccio. In the beginning, Anna, Sophie, and Harry were in town. They were hurrying to get to Mr. Miller's General store to get stuff for their Mom. When they got there, they stared at the candy in the tall jars. Finally, they went to into the woods and Harry lead the crew home. The sky was cloudy and dark so Harry discovers that they could take a shortcut in the woods. They were carrying a basket with Anna's cat, Ghost, in it. After a little while, Ghost falls out of the basket! Anna screams and she's so worried about her cat. Read the ending to find out what happens.
My opinion about this book is that it is a really good story in the Maple Tree Farm series. I recommend it to you because there are a lot of interesting parts like in Chapters 2, and 4. In Chapter 2, it is really interesting when Harry figures out that they could take a shortcut in the woods to get home. But it happens to be that it doesn't work. In Chapter 4, there is a crisis! Ghost runs away and falls into the water! But Anna finds a way to get him! I REALLY like this book. I do not even dislike anything!
When I started reading this book, I LOVED it! As you read in the paragraph above, there are a lot of interesting and exciting parts. I think this book is good for all ages. And it is not too short or not too long. I recommend this whole Maple Tree Farm series! If you like interesting and exciting adventures, my opinion is that this would be an awesome book for you to read!