A Hole New World
Written by Popular MMOs
Illustrated by Dani Jones
Reviewed by Lando A. (age 7)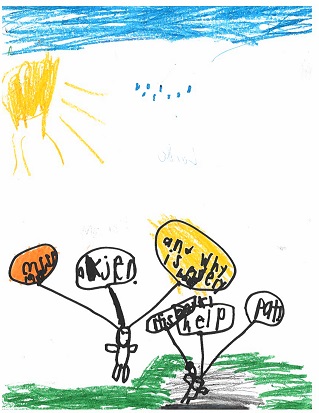 Well, have you ever wanted to see zombies, enormous cat and go on an exciting adventure? Well in A hole New World you can do it all along with pat and Jen. Pat and Jen, two YouTubers, Lose their three friends and must go through a magic hole in the ground to another world to find them. Along the way, they find more friends, face zombies, and have fun. Will they find their friends? will they succeed in their adventure?
One reason I like this book is It is a graphic novel and a Minecraft book. This book is really wonderful and colorful because it is a graphic novel. This means each page is beautiful and bursting with pictures. It is also a page-turner because every page is exciting. I asked myself lots of questions after each page. I couldn't wait until the last page of the story!
Do you like youtube? Then you would like a hole new world because it is about YouTubers. And if you like dog man you would like a hole new world to because it is a graphic novel. you must go check this out because you will love this book!