The Lion, the Witch and the Wardrobe
Written by C.S. Lewis
Illustrated by Pauline Baynes
Reviewed by Luna W. (age 8)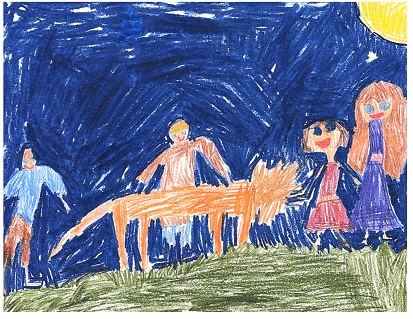 What if one day you woke up and you fond a portal to another world in your house!? Well in the book, the Lion the Witch and the Wardrobe, Susan, Edmund, Lucy, and Peter do find a portal to another world in their house. In the portal the go to Narnia and see all kinds of amazing things. They meet, the lion king. They also fight the White Witch. The white witch tries to kill Aslin and the children. Will they defeat the Witch and save Narnia?
One reason it is a good book is the character, Lucy. Lucy is so brave. She fights even though she is the youngest. Another reason it is a good book is because lots of kind characters like Lucy. Lucy is so nice to Mr. Tumnes. Mr. Tumnes and the other children are also kind to everyone they met. One more reason it is a good book is how Lucy is so adevntorus. she climbs into a wardrobe and goes to another world all by herself. I want to be just as kind, brave, and adventurous as Lucy
It is such a great book I recommend it, everyone! I think you will really like it if you like fairytales because it is a lot like a fairytale. Also if you like magic books about fairies and princess you will love it so much!!! If you want to be brave and awesome lie lucy you must read this book.