Third Grade Pet
Written by Judy Cox
Illustrated by Cynthia Fisher
Reviewed by Allie N. (age 10)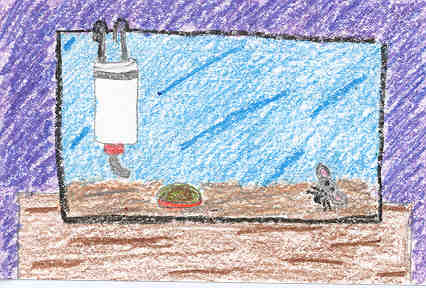 "Eeek!" said Rosemary when she figured out that her third grade class was getting a rat for a pet. The book, Third Grade Pet is about a girl named Rosemary and her third grade class getting a pet. Rosemary hates rats, and of course, the third grade pet is a rat. Rosemary was an "expert" at naming people or animals, so she thought of a name for the rat, even though she doesn't like it. She named it "Cheese." The teacher, Mr. Wilder, assigns two people in the class a week to be the rat keepers to take care of Cheese. It turns out that Rosemary, since she named Cheese, and a boy in Rosemary's class, Bryan, since everybody thinks he's an expert at rat keeping, were the two rat keepers for the week. Poor Rosemary! On Monday, it turns out that Bryan was sick, so Rosemary had to take care of Cheese all by herself. But later that day, she learned how to care for Cheese. So after awhile, she really began to like Cheese. The next day, Bryan came back to school and he thought that it wasn't fair that Rosemary had the whole day Monday to spend with Cheese and he didn't get to even see him. So Mr. Wilder and Bryan made a deal that Bryan could keep Cheese all day Friday and all weekend. Bryan had already had three rats and they all died, so Rosemary didn't trust Bryan with Cheese, even though the whole class calls him "The Expert Rat Keeper." So on Thursday, Rosemary crept Cheese into her sweater and ran off. Mr. Wilder almost caught her, but she got away. Read the book to find out if Rosemary gets away with sneaking Cheese out of school.
I liked the book, Third Grade Pet because one of the characters in the book, Rosemary, reminded me of myself. We both have to face a lot of problems in our lives that have to be solved. I also liked it because of the illustrations and the illustrator, Cynthia Fisher, used her talent very creatively. Last of all, I liked it because it is one of those books that you just can't put down.
I would recommend this book to people who are scared of a certain animal similar to a rat, because they could relate to Rosemary and how she feels and how you would feel. I would also recommend this book to those who like to read adventure books because this is a thrilling and an exciting story. This book is a great book to read. It's worth it!