Baby Monkey, Private Eye
Written by Brian Selznick
Illustrated by Brian Selznick
Reviewed by Alessandro M. (age 8)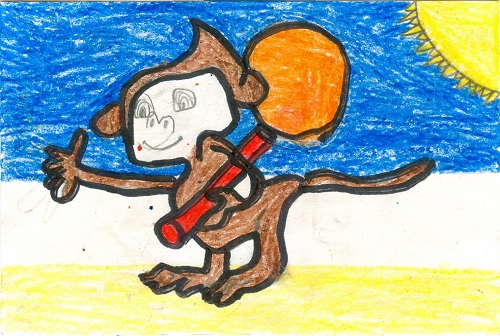 Baby Monkey is a story about a little monkey who solves cases of robberies. He solves many, many cases. To solve a case, Baby Monkey always changes what he eats and he always solves the case. If you want to know how he solves this case, you will have to read the book.
I liked the story of Baby Monkey because Baby Monkey always has a problem with his pants. He can never put them on fast. I liked all the characters. They are friendly. I have a connection with this book and life. Baby Monkey loves his mom and babies in real life and also loves his mother.
Other kids should read this book because it's fun. Baby Monkey is very silly. The book is mysterious because when a new case starts, the pictures in Baby Monkey's office change to a different drawing. The drawings give an idea about the mystery and the new case.