Charlotte's Web
Written by E.B. White
Illustrated by Garth Williams
Reviewed by Roxanna F. (age 8)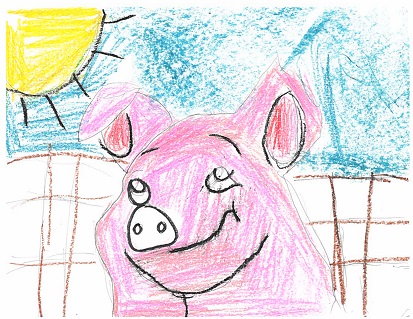 Have you ever wanted a pig who talks? Well in Charlotte's Web all kinds of animals talk! Two animals who talk are Charlotte the spider and Wilbur the pig. In the book Charlotte's Web, a smart spider named Charlotte tries to save a pig his name is Wilber. They figure out the farmer wants to kill Wilber. They came up with a plan to stop the farmer. Charlotte makes a special web. Will it save Wilbur's life? Will it work in time?
One reason it is good because it teaches you lessons. One lesson it teaches you is to never give up. Charlotte and Wilbur never give up from stopping the farmer from killing Wilbur, even when it's scary. Another reason it's great is because of the character Charlotte. Charlotte is so smart and she also creative to use her web to make words to save Wilbur. Charlotte is also very brave and a good friend. The book teaches about friendship because of Charlotte always being there for Wilbur. I really liked that it showed how to be a good friend.
I recommend this book to all who like talking to animals. If you like the book the Very Busy Spider by Eric Carle you will love Charlotte's web. They are both about smart spiders and webs. Also, if you like all of E.B. Whites other books like Stuart Little you should read this book. You will love Charlotte and Wilbur too!