Polar Bears Past Bedtime
Written by Mary Pope Osborn
Illustrated by Sal Murdocca
Reviewed by Blakely B. (age 9)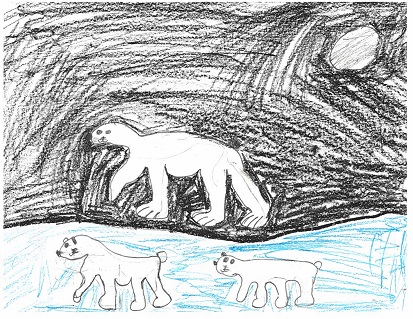 Jack and Annie found a magic tree house that takes them on tons of adventures, but can they go back to their normal world or will they be stuck in the Arctic forever? In this Magic Tree House book, Jack and Annie have to go to the Arctic, but they have a problem, they need to solve a riddle for Morgan Le Fay. When they get to the arctic their freezing but this man comes and gives them warm clothes. They also meet polar bears and see some cool things. Will they solve the riddle before the freeze to death?
One reason I like this book is because it's adventurous like when Jack and Annie go to the Arctic. Jack and Annie go on tons of sometimes they think that they can never get out. My favorite character is Annie because she is always ready for an adventure and I wish I could be more like her. Another reason I like this book is because it teaches us a lot of things. It teaches about cold places and all about arctic animals.
If you like adventures things you should read this. If you like The Lion The Witch and The Wardrobe I definitely think you should read this book. Both Books have magic, brothers, and sisters, and they have brave girl characters. If you like reading and learning about the arctic you would like this book. I definitely recommend for you to read this book.