Junie B. Jones and That Meanie Jim's Birthday
Written by Barbara Park
Illustrated by Denise Brunkus
Reviewed by Marissa B. (age 10)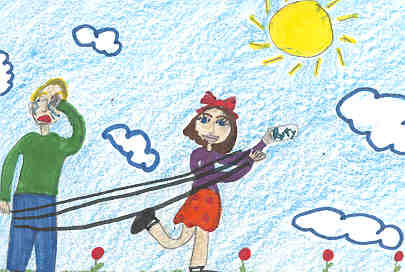 Gimmie! Gimmie! Gimmie! Junie B. Jones and that Meanie Jim's Birthday is about a young girl named Junie B. Jones that doesn't get invited to Jim's class party. Junie really wants to go to his class party so she steals an invitation from Cry Baby William. Then she gets in trouble , and goes to the principal's office and gets everything straightened out . Then her Grandpa Miller calls her and asks her if she wanted to fix the toilet with him , her favorite thing. Just touching that big ball - and wearing the worker's belt just brought thrill to her face. She also gets an invitation. But, Junie B. had to wash, do her hair, and get all dressed up."Yuck!" To find out if Junie B. Jones goes to Jim's birthday party - Well, you'll just have to read the book!
I liked Junie B. Jones and that Meanie Jim's Birthday because it was funny. It was funny when Junie said, "Yeah, but I don't even like that guy , so I don't even have to give him a present." Junie B. Jones reminds me of my little cousin. If she wants something her way, she'll do anything to get it that way - no matter what! I have read other books by Barbara Park and I liked all of them. The other books by Barbara Park are about Junie B. Jones and her adventures.
I recommend this book because it is realistic. I think this book is realistic because Junie B. acts just like a kindergartener would. For example, not wanting to take a bath, or buying a present that you want, and having to give it to a boy you don't even like. I think this book would appeal to people with a lot of tolorence , and who like realistic, humorous, truthful books.