Attack of The Giant Hamster
Written by Paul Harrison
Illustrated by Tom Knight
Reviewed by Angel C. (age 8)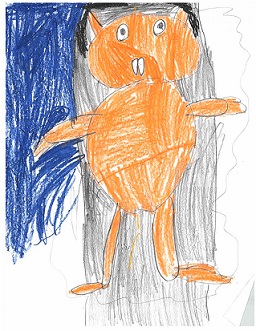 Have you ever imagined that your pet could grow giant? In the magical book Attack of the Giant Hamster Billy gives some booster bites to his hamster but that makes him giant! Will, he still be sweet or will he be a monster?
Billy sees a commercial for booster bites and buys them for his hamster, Hercules. When Hercules eats the bites he starts growing a little. That night he keeps growing and soon he grows giant. Hercules gets out and goes to a village. All the people are scared because they have never seen a hamster that big. Now the army is trying to kill Hercules!
I like this book because things grow giant and that is really creative. I wonder how things would be if they were giant and this book lets you see that. I also liked it because it was a page-turner. I wanted to know what would happen to the hamster when he ate the bites so I couldn't stop reading. Every page was really exciting! I also like hamsters and Hercules in this book was a really cool hamster. He was so cute!
If you like Captain Underpants and page turners Like James and the Giant Peach you will love this book. Also if you like the book Battle Bugs you will like this book because the writers use creative things to make animals exciting. Both books let you see animals get really big! I think you will really enjoy this magical book.