Heidi Heckelbeck Casts a Spell
Written by Wanda Coven
Illustrated by Priscilla Burris
Reviewed by Blythe M. (age 9)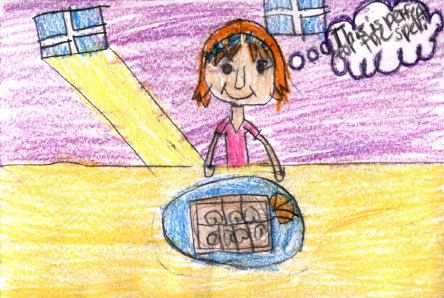 The war isn't over yet Melanie! In this book, Melanie Mapplethorpe causes trouble again by making Heidi a scary tree in the dreadful school play, The Wizard of OZ. As a result, Heidi tries to get back at her by casting a spell to forget her lines in the play as the mane roll, Dorothy. She needs the kookiest ingredients, a puppy tooth, cornflakes, catnip, and more. Suddenly, after she goes to Aunt Trudy…...she thinks, will she do the spell? After all, would it even work? Can she find the ingredients If you want to find out more, you should read the book. In the final analysis, if you like suspense and mystery, you should read this book.
I did not like this book because it was too silly and ridiculous. However, I would recommend this to first or second graders. This book is the second of the Heidi Heckelbeck series. My favorite part is when Heidi puts cornflakes and salt on her waffles just to get the ingredients. Furthermore, I admired the authors illustrations because it shows the characters personalities. For instance, if Heidi goes to school with funky clothes, that means she thinks outside the box ideas, and if Melanie wears a good-looking dress, that means she acts like she is perfect and does not think outside the box like Heidi does. This book reminds me of when I was little and I wanted to cast spells on people. In the final analysis, I learned not to put spells on people and that this book is not good for third graders because this book is too childish for third graders.
I recommend this book to first and second graders because I remember loving books that are funny and ridiculous and this is the right book for that. I also recommend it to second graders because it reminds me of the book Judy Moody and because she is unique like Heidi and they both have outside the box ideas too. Heidi Heckelbeck also reminds me of Clementine because they are both funny and have the same short, red hair. In the final analysis, I recommend this book to second and first graders.