Junie B. Jones and BOO! and I mean It.
Written by Barbara Park
Illustrated by Denise Brunkis
Reviewed by Aliz V (age 8)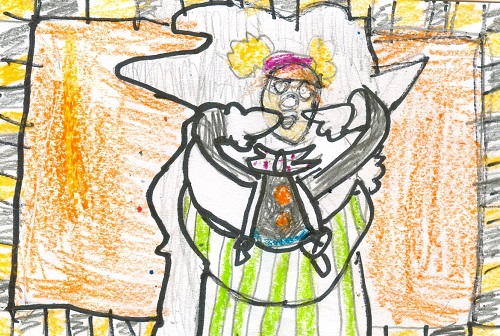 Do you like nonfiction books? You can read Junie B. Junie B has 6 secrets. One of them is that she is scared of Halloween. She wants to wear a costume and be called Squirty. She wants to scare people and……. read this book to find out the six secrets.
I liked Junie B Jones attitude. She is sassy. She stomped and put her hands on her hip. Junie B. Jones changed because she went from being sassy to elated because she wanted to scare people but she didn't. However, she scared her dad and felt happy. I was wondering why she said that candy corn isn't candy corn. Junie B can be silly. For all these reasons, I enjoyed this book.
I think I would recommend this book to children because if you're in second grade and trying to find a just right book you can read Junie B. Jones. I think you would like Junie B. Jones because she is a funny kid. This story allows you to see all the ways in which Junie B. is a great character and it will make you laugh.