Vacation Under the Volcano
Written by Mary Pope Osborn
Reviewed by Zavier T. (age 8)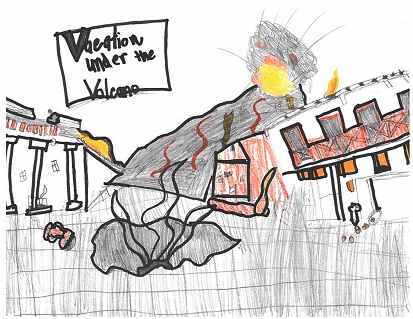 Have you ever wanted to go on an Adventures? Annie and Jack are on another adventure in their tree house. They go in the magical treehouse to a country named Pompeii. This is Back in the Roman Empire long ago back in a time when there was a big volcano on Pompeii. The Volcano is about to explode. Jack and Annie are there to find something before the explosion. Can they get back home before they are dead?!
One reason I like this book is because it has adventures and the author gives a lot of interesting details. Another reason I like this book is that the author gives you information while you read. I learned a lot of interesting information about Pompeii while reading. I also love this book because I like Jack and Annie. In the book, Jack always looks after his sister, and Annie is brave and bold.
I recommend this book to anyone who likes adventure and history. Also if you like Lucy and Peter in The Lion The Witch and The Wardrobe, than you will love Annie and Jack. Annie and Lucy are both bold and brave and Jack and Peter are always looking out for their sisters. It's the best Magic tree house book yet!