Sisters
Written by Raina Telgemeier
Illustrated by Raina Telgemeier
Reviewed by Eliza B. (age 9)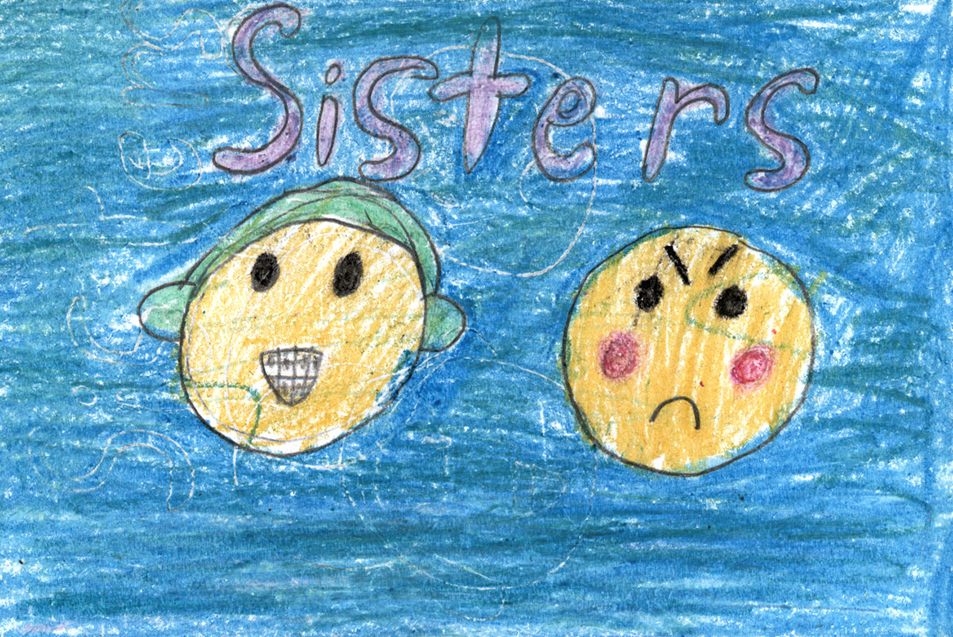 Imagine you had a mean little sister. Well, Raina does. Raina was a only child and was happy. A few years later, her little sister, Amara, was born. Raina tried to get along with Amara but it just didn't work. A few years after that their baby brother, Will, was born. Raina's world turns upside down. Then they have to take a long road trip for a week in the same car. They are heading from California to Colorado for a family reunion. That's a long ride! So much happens and it's hard for Raina and Amara to get along. They complain, they fight, they argue. Will this road trip be a disaster or can Amara and Raina put their differences aside? Well, you have to read to find out.
I really liked this book because a bunch of things happen. Also, it is graphic novel and I like looking at the pictures. I can connect to Raina. We both have annoying siblings and long car rides. Me and my sibling always fight. I really liked the flashbacks in the book. It really helped explain things that happened in the book. I especially liked the flashbacks from when they were little. It got really exciting at the end. But I do not want to spoil it for you. If I would have to rate this book from 1-5 I would rate it a 5 because a lot of things different happen and there are a lot of twists and turns all the way through the book. It never stops.
I would recommend this book to sisters who do not get along, peopl who like graphic novels and people who like books with twists and turns. At the end of the book there is an important lesson but I do not want to spoil it for you if you are going to read it. Read, "Sisters", if you want to see what happens at the end. You should read it. It's a great book! Enjoy!!!!!