Perfect
Written by Max Amato
Illustrated by Max Amato
Reviewed by Ryan A. (age 9), Jack P. (age 8), Sebastian E. (age 9) & Hudson B. (age 9)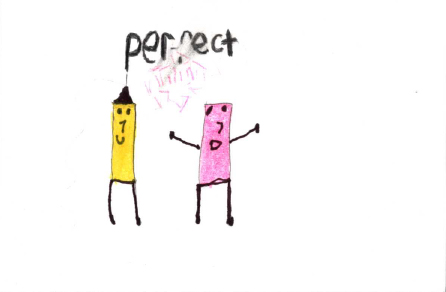 What do you know about pencils and erasers? This book is about an eraser who thinks everything should be perfectly clean. But on the other hand, there is a pencil. He does not like everything clean. He likes to draw. The eraser tries to clean all the pencil marks and drawings the pencil makes but the pencil fights back by drawing a pencil army that chases the eraser into a dark forest the pencil drew. The eraser discovers that he can draw too and that everything doesn't have to be perfectly clean. They learned that they both could be happy at the same time.
The illustrations are very good. Max Amato uses photographs of a pencil and eraser and draws arms, legs, and faces on them.
We really loved this book because the illustrations are so good and funny like when the eraser draws itself in a rocket ship by erasing the pencil marks.
We think it's funny when the pencil army came running towards the eraser to chase him because of how it was drawn.
We loved the book because it teaches a great lesson that if you like different things than someone you can both be happy at the same time. Also, it teaches you that friendship can evolve. You might not be friends at first but you might be friends at the end.
We recommend this book to kids in grades k-3rd because they might like the story and the illustrations.