Miss Child Has Gone Wild
Written by Dan Gutman
Illustrated by jim paillot
Reviewed by Travis M (age 8)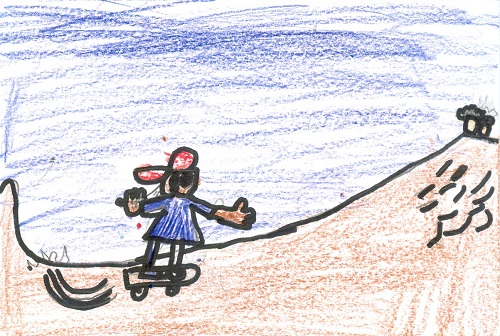 Have you ever been on a field trip with your school? I bet you haven't been on a trip like this! A.J. and his class won the weirdest contest for the cleanest class in his school. The prize was a trip to the weirdest zoo! The zoo keeper is Miss Child. She thinks animals are smarter than humans and likes to keep snakes in her pocket. A lot of weird things happen at the zoo. Do you think animals can paint? Wait until you get to the part with Alexa skateboarding with Emily on her shoulders. Do you want to find out? Well, then read the book. This book is the first book in the My Weirder School Series. I am sure you will enjoy this book! If you are interested in small books with no chapters, make this your first or second chapter book.
I liked this book so much. It had loads of jokes and lots of roasts. There is a great part where Andrea tells everybody a fact! She's always telling facts so A.J. has a good comeback which makes everybody laugh. This is Book 1 in the series. I plan on reading all the books now!
I would recommend this book to kids ages 7-10 years old. It is 105 pages full of hilarious laughs! If you like books that make you laugh, this might be the book for you! Dan Gutman writes great books for kids and I highly recommend this author!