The Magic Treehouse-The Knight At Dawn
Written by Mary Pope Osborne
Reviewed by Vincent M (age 9)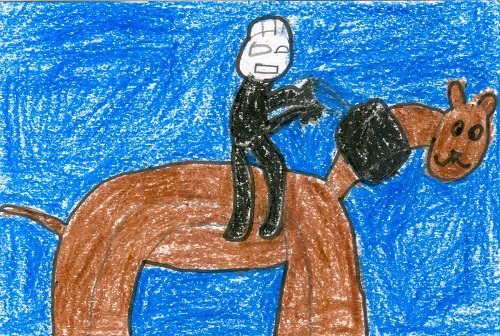 Swish! Whirl! Crack! By the time they got to to the of knights they observed something…..boys had skirts, and for dinner the strange people were eating peacocks. That's what Jack and Annie saw when they creeped into into the feast of knights, but they weren't exactly welcomed guests. If you want to see what happens next read the Knight at Dawn.
While I was reading this book I thought one of the knights is my favorite character because he rescued Jack and Annie from the other knights that were taking them to the dungeon. Then he took them back to the tree house so they could go home to Frog Creek Pennsylvania. There were illustrations of Jack and Annie and they looked different in each picture. I think the Magic Tree House is one of the best series because in every book they go on spectacular adventures.
I think ages 7-12 should read this book because there is 67 pages including the about the author page. I also think people who have strong imagination will enjoy this book also people who likes smart characters.