Nate the Great
Written by Marjorie Weinman Sharmat
Illustrated by Marc Simont
Reviewed by Yandel D (age 9)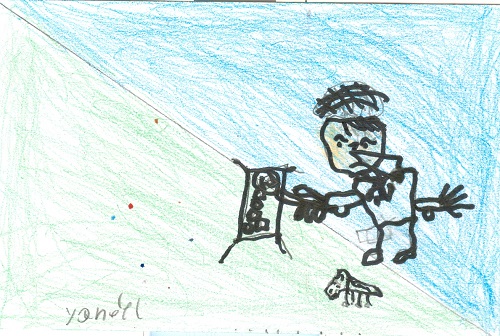 Nate the Great is a kid detective who likes pancakes. Nate needs to go on a mission to find a missing picture. He uses many clues to solve the case. He looks for the suspects. Is the picture buried in the backyard? Did Rosamond take the picture or Annie's brother? Read this book to find the lost picture.
I like this book because it's about a kid detective. The main character is a kid who solves cases. That's cool! Nate is a smart, creative thinker. The pictures showed every part and how every person acted. For example, the illustrator showed Rosamond with a lot of cats. Just like Nate, I was a detective for my sister. One time she lost a pair of shoes and I thought to solve her case. I used a special flashlight to find her footprint.
Do you like mystery books? This one is for you! You can follow Nate when he talks to suspects and looks for clues. Can you solve the case before he does? I think somebody who likes mysteries would like this book.