Frankenstein Doesn't Plant Petunias
Written by Debbie and Marcia Thorton Jones Dadey
Illustrated by John Steven Gurney
Reviewed by Kevin R. (age 10)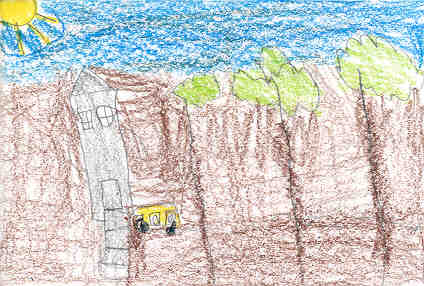 I enjoyed this book because a class goes to a museum. The book begins with the class on its way to the museum Then the kids talk about how this is the first time in fourteen years that the museum has been open. Then they get in the museum and four kids wander off into the museum. Then a storm starts with thunder and lighting. Mrs. Jeepers is their teacher and they think she is a vampire. Then they heard a big boom from the green room. Be sure to read this book to find out about how the field trip ends.
I really like this book because it is funny. My favorite part is when the kids are blowing bubbles. I like it because it is cool to be able to blow any size of bubble. It reminds me of when I blew bubbles outside. I found Eddie interesting because he is funny, smart, and kind.
I recommend this book because it is mysterious. If you like mystery books you would like this books. When they get to the museum they go look at bones. The characters are Eddie, Howie, Melody, and Mrs. Jeepers. The setting is the museum.