Harry Potter and the Sorcerer's Stone
Written by J.K. Rowling
Illustrated by Mary Grandpre
Reviewed by Sebastian H. (age 8)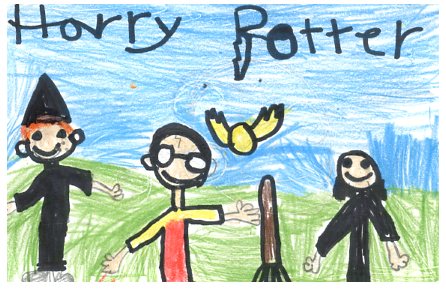 Until now there's been no magic for Harry Potter. He lives with the miserable Dursleys and their abominable son, Dudley. He hasn't had a birthday party in 11 years and his room is the cupboard under the staircase.One day he gets to go to Hogwarts School of witchcraft and wizardry. There he finds not only friends, but flying sports on broomsticks and magic in everything from the classes to the meals and a great destiny...if harry can survive the encounter.
The reason I like this book is because it's about magic. I also like the entire Harry Potter series. So I figured that I would enjoy this book too and I certainly did! Once you read the first book you get so attached to it.
I recommend this book to people who like the Harry Potter series. I also recommend this book for third graders and up because it might be a little scary for little kids. Also, people who are interested in magic might want to read the series.