Captain Underpants and the Big, Bad Battle of the Bionic Booger Boy Part 2: The Revenge of the Ridiculous Robo-Boogers
Written by Dave Pilkey
Reviewed by Matthew C (age 8)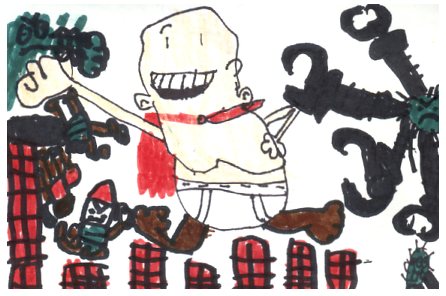 Captain Underpants and the Big Bad Battle of the Bionic Booger Boy Part Two The Revenge of the Ridiculous Robo -Boogers! The epic battle of the Robo-Boogers taking over the world!
This book is about Captain Underpants going back in time to save the world from Robo-Boogers. And George, Harold and Captain Underpants go back in time to switch their brains because it was in the wrong bodies.
I like this book because it is very funny and has lots of laughter. I like the adventures and characters in this book. I enjoy this book because of the adventures in this book are funny. Just imagine, a guy flying around in his underwear, saving the city.
Kids seven years or older should read this Captain Underpants book because it has lots of action. The crazy adventures kids make kids me interested in reading more books in the series. Teachers should read this book to their class because it's funny and cool and kids would listen!