Blue Bay Mystery
Written by Gertrude Chandler Warner
Illustrated by Dirk Gringhuis
Reviewed by Elisabeth S. (age 10)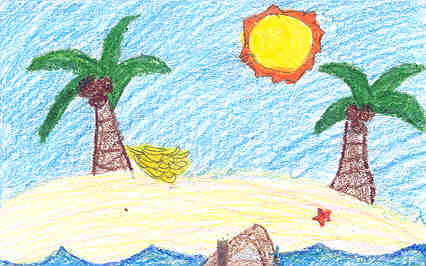 Henry, Jessie, Violet, and Benny, the Boxcar Children, have been living with their Grandfather for a long time now. Then one day Jessie thinks he is acting wired. After awhile he shares his news and they couldn't believe it. They were going to an island in the South Seas. Their Grandfather tells them more about it. They will leave in 4 days; they would take a car to the airport, a plane to Chicago, and a boat to the island. Everything is going great, but then when they're on the island for about 2 days they keep hearing noises like coconuts falling when they are not supposed to. It seems like someone is watching them. Is someone else on the island? Read Blue Bay Mystery to find out.
When they first hear noises it makes me wonder. Is there really someone on the island? If there is, who is it? My favorite part was when they swam in a little pond with their clothes on. The characters changed in the story because they all had to learn to find their food. While you read this book you can imagine how hard it would be to live on an island for 3 months and how exciting it would be at the same time.
I would recommend this book to people whom like mysteries or who like the Boxcar Children. It's interesting how there are so many places to go on the island. Everyday they go somewhere different in the story. You can imagine the clear water shining off the sun and the beautiful waterfalls. This book is the best because of the way it gets you excited, and ready for the next page.