Melvin Beederman Superhero the Revenge of the McNasty Brothers
Written by Greg Trine
Illustrated by Rhode Montijo
Reviewed by Zoe H. (age 9)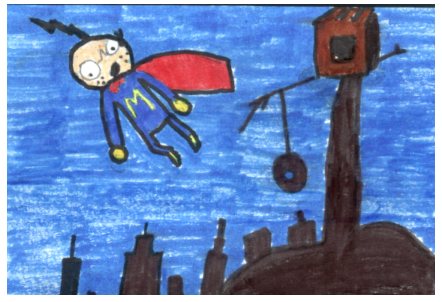 Bonk crash slam goes Melvin on the ground, but now he is up, whoosh, like a speeding bullet. Is it a bird, is it a dragonfly, no, it's Melvin Beederman. Melvin is no ordinary kid he is a superhero, he fights crime! He takes the place of a superhero named Carl. He goes to L.A., he meets another superhero named Candace and they become partners in uncrime.They take on the McNasty Brothers. Will they get defeated or will they win? Read to find out.
I felt excited as I read this book. There are many suspenseful parts, like when Melvin and Candace almost died because the building they were in was getting knocked down soon. My favorite part is when Melvin sees 6,000 pounds of bologna and falls to his knees and becomes weaker. I like Melvin and Candace because they remind me of me and my sister when we hang out in our forts. I love the illustrations in this book it makes it really funny.
I think people should read this book because it is an interesting book about a boy in superhero school that moves to L.A. and becomes a superhero. I think people who like suspenseful and adventurous stories should read this.The genre of this book is an adventure book. Melvin and his sidekick Candace are kids, it is good to see kids save the day. If you ever feel tired or sad and needing something to cheer you up, Melvin Beederman is the perfect book for you. I give this book five stars for making me laugh as I read it.