Hello, My Name Is . . .: How Adorabilis Got His Name
Written by Marisa Polansky
Illustrated by Joey Chou
Reviewed by Sananda N. (age 8)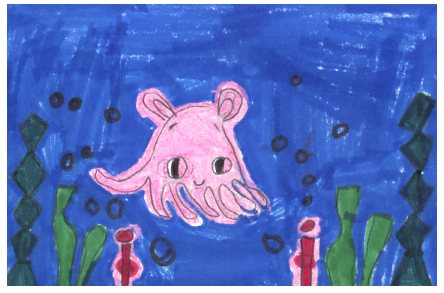 Have you ever wondered if all animals have a name? Well in the book Hello My Name Is...: How Adorabilis Got His Name, a little pink octopus doesn't have a name. In the book, a little pink octopus comes in the tank. All the other animals welcome him. They ask, "what will they call you?" The bright pink octopus said, "call me?" "Everyone has a name here," said Anglerfish. After that, Anglerfish showed the new creature around. One of the sea animals changes color.The other one was a giant. Then the little pink octopus had an idea. The little pink octopus tried to change his color but it did not work. He tried to be a giant but he was to small.Then a scientist came up to the tank and said "how are you doing in your new home…" If you want to know the little pink octopus' name, you have to read the book to find out.
I love this book because I like the part when the little pink octopus parachutes from a cliff and sticks to the sand. I also liked when he tried to give himself a name and the name he tried to give himself was parachute-steer fish. It was not fitting for him. If you get a new pet, always name it because if you don't, your pet will not have a name. As I read this book, I felt a little bit sad for the octopus because he didn't find his name yet. He doesn't find his name until the end. The special thing about this book is that the little octopus is real!
I recommend this book to everyone especially to people who love the sea. Everyone might laugh when the little pink octopus jumps off a cliff and lands on the sand. You would love this book! Have an adorable day!