Sideways Stories from Wayside School
Written by Louis Sachar
Illustrated by Julie Brinklo
Reviewed by Mark P. (age 10)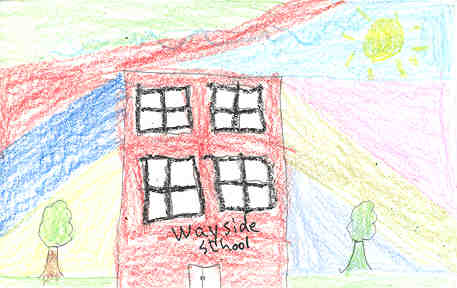 This book is a bunch of weird stories about kids. For instance there is a kid named Sam. He was new at Wayside School when he came in to the class he had about 25 coats on. Mrs. Jewls, the teacher, kept pulling off the coats and with every coat she pulled off he got smaller. Finally when the teacher pulled off the coats he was a dead rat. If you want to read more about funny stories read the book Sideways Stories From Wayside School.
I thought this book was good because it was a funny and interesting story. My favorite part was when Louis, the yard teacher, kicked Terrence over the fence because he kept kicking all the kid's balls over the fence and everyone told on him. This book is part of a series; the other books are Wayside School Is Falling Down, and Wayside School Gets A Little Stranger. These books are like Sideways Stories From Wayside School. I have read these books and enjoy them very much.
I recommend this book to people who like to read really funny books. I think that if you want to read a lot of weird and yucky things, you should read the book Sideways Stories From Wayside School. It was good too because I like how good the story was and good the Illustrations were.