Adrian Simcox does NOT Have a Horse
Written by Marcy Campbell
Illustrated by Corinna Luyken
Reviewed by Sebastian E. (age 9) & Jack P. (age 8)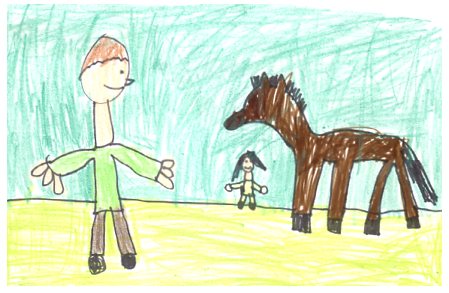 This book is about a kid named Adrian Simcox with an amazing imagination. He always tells people he has a horse "with a white coat and a golden mane and the biggest brownest eyes of any horse anywhere". There is a girl named Chloe who does not believe that Adrian has a horse. Chloe always tries to prove that Adrian Simcox does not have a horse. She keeps on trying to prove to everyone that he lies about his horse. Chloe and her mom go to Adrian Simcox's house and they see Adrian and his grandfather. She wants to prove that he doesn't have a horse. Read the rest to find out what happens next.
We think Chloe is very judgy. She said that he lived in a small house and he couldn't have a horse because he didn't have enough money.
We liked how the illustrator made a bunch of plants and made the horse out of the plants.
The lesson in this story is don't assume something about someone if you don't know if it's right or not.
We recommend this book to people who need to stop judging other people because this book is about how a girl stopped saying that Adrian Simcox does not have a horse.