The Rough Patch
Written by Brian Lies
Illustrated by Brian Lies
Reviewed by Sebastian E. (age 8) & Jack P. (age 7)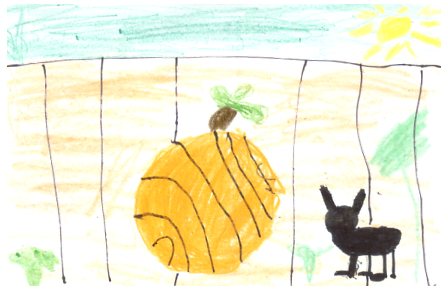 This book is about a fox named Evan. He does everything with his dog like playing games and planting stuff in Evan's garden. "One day, the unthinkable happened" and it made Evan very, very sad and angry. He killed his plants in his garden and he let itchy, prickly weeds grow because his dog died and it wasn't a happy place. Then a pumpkin vine grew in and he took care of it. It grew very big! He went to the fair with the pumpkin. This is when he started feeling good. Read the book to find out what happens.
We liked the end because something great happens. Our favorite part was when Evan had fun at the fair because we like to see happiness.
We think Brian Lies wrote this book because he wanted to make people feel better when someone or a pet dies in your family.
We think kids in 2nd -5th grade should read this book because they need to know how to take care of themselves after someone or something dies. They can read it and see how Evan got through it and how to move on if someone in their family dies.