Goosebumps Most Wanted- Zombie Halloween
Written by R. L. Stine
Reviewed by Jacob K. (age 10)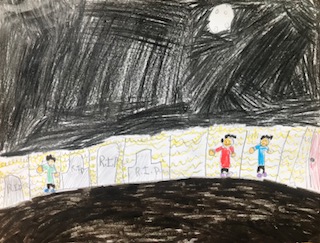 Zombie Halloween is about two kids that live in a house with their grandpa across of a graveyard. The kid`s names are Kenny and Treica. Around Halloween, a new family moved next door. Everyone believes in zombies. They start seeing zombies. Can they get away? The lesson is that stay out of creepy houses and places.
I like Zombie Halloween because I love scary books. My favorite part is when Kenny gives cereal to the zombies because that part is very funny. I do like Alec because he knows what to do most of the time. Alec reminds me of my friend Lachlan because he knows what to do most of the time. They both also like video games.
I recommend this because it is an amazing book. I would like to have R.L. Stine to read this book to me. There is a news report about zombies in the book. There is a part about making a zombie patrol. I think kids who like scary books would like this book.