The One and Only Ivan
Written by Katherine Applegate
Reviewed by Sanya S (age 10)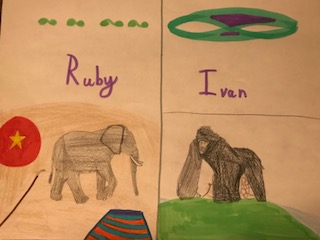 The One and Only Ivan is about a gorilla who lived in a circus downtown all his life, and decides the fate of a newly arrived baby elephant (Ruby) and himself when he realizes circuses are wrong. Ivan is the gorilla's name and he is an "ape artist." He uses actual paint, pencils, and crayons to sell pictures in the gift shop at the circus. In this book, the author is trying to make us realize that circuses are not good. Cruelty to animals is absolutely unacceptable. Respect them!
I really liked this book. It was so interesting when the dialogue happened between Ivan, Stella (another elephant), Bob (a dog), and Ruby. I loved when Ruby's problems were solved. It made me feel so lucky to not be neglected and for my parents to care about me. The is book is specials because Ivan narrates it himself and it is done in a very special way, a way that I have never seen before. It is very emotional and unlike any other book I have read. What is my favorite part? when Ivan paints his pictures of a zoo for Ruby.
I would recommend this book because in the 10 years of my life, this was one of the few books that caught my eye, and I liked it so much I read it six times! My last favorite part is when Stella dies in her domain. If you like to read about animals being tortured at first but then freed in the end, this is the book for you.